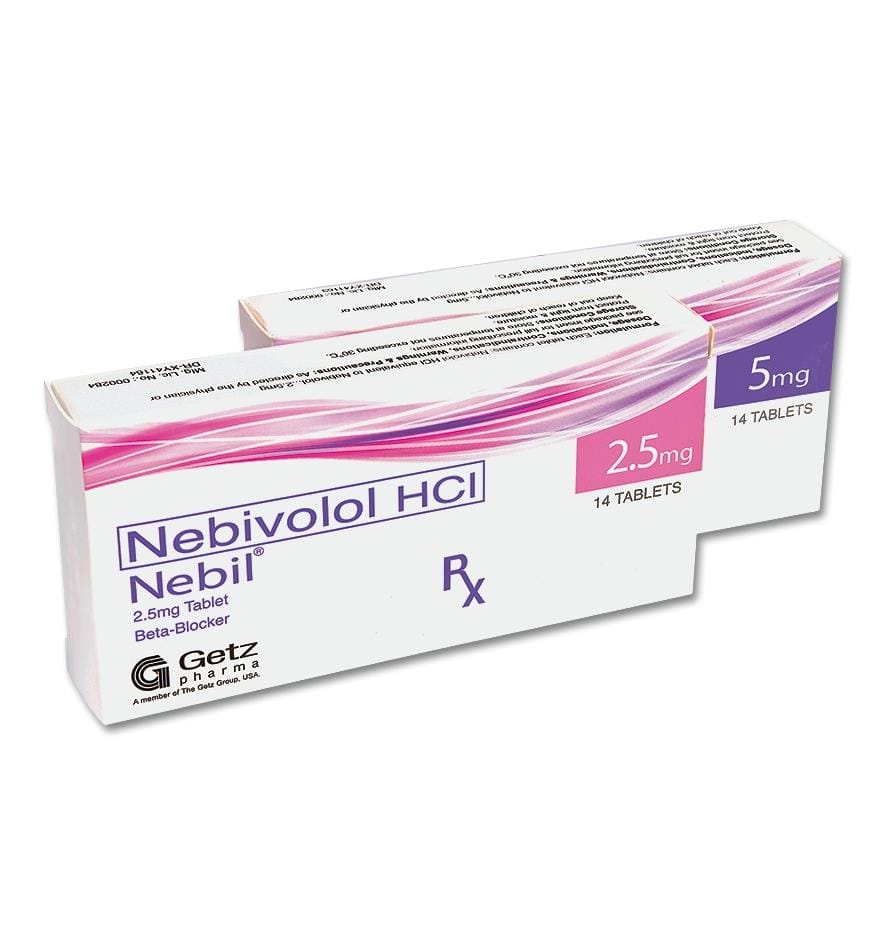 Introduction
Nebivolol a novel beta blocker, available under the brand names of Nebil, Nebix and Byvas etc.  is more selective for beta1-adrenergic receptors than other drugs in this class and has a unique, not found in other beta-blockers now available to doctors, nitric oxide (NO)-potentiating, vasodilatory effect.
Nebivolol is a medication primarily used to treat hypertension (high blood pressure) and certain heart conditions. As a beta-blocker, it works by blocking the effects of adrenaline on the heart and blood vessels, resulting in decreased heart rate and relaxed blood vessels. In this blog post, we will delve into the details of nebivolol, exploring its uses, benefits, and potential side effects.
Definition and mechanism of action
Although the precise method by which beta-blockers lower blood pressure is not fully understood, possible processes include a heart-rate-related effect, suppression of the sympathetic nervous system, and inhibition of the renin-angiotensin system. A brand-new, highly selective beta-blocker with nonadrenergic vasodilating qualities is nebivolol. In Europe, it has been licenced for the treatment of congestive heart failure and essential hypertension, while the US is now reviewing it for the management of hypertension.
How it differs from other beta-blockers
According to clinical studies, nebivolol is ten times more effective than atenolol when compared on a weight-for-weight basis. In one study, using a double-blind, crossover design and a parallel, placebo group (n=7), the effects of doses of nebivolol (2.5 mg/day, 5.0 mg/day, and 10.0 mg/day) on exercise-induced increases in heart rate and blood pressure in 25 male hypertensive volunteers were compared with those of atenolol (50 mg/day and 100 mg/day) and of placebo. Nebivolol and atenolol both reduced heart rates (at rest and during submaximal activity) and sitting and standing diastolic and systolic blood pressures to the same extent at 24 hours following dose.
Approved medical conditions for nebivolol usage
Managing Hypertension with Nebivolol
Nebivolol as a first-line treatment for hypertension
Dosage and administration guidelines
Efficacy of nebivolol compared to other antihypertensive drugs
Nebivolol's role in reducing cardiovascular events and mortality
Nebivolol for Heart Failure
Nebivolol's unique properties for heart failure management
How nebivolol improves symptoms and quality of life in heart failure patients
Considerations and precautions when using nebivolol in heart failure patients
Potential Benefits Beyond Hypertension and Heart Failure
Exploring nebivolol's role in endothelial dysfunction and vascular health
Nebivolol's impact on nitric oxide production and vasodilation
Research on nebivolol's potential for treating erectile dysfunction
Safety Profile and Side Effects
Common side effects of nebivolol and how to manage them
Rare but serious side effects and their associated risks
Precautions for specific patient populations (e.g., elderly, pregnant women, those with liver or kidney disease)
Drug Interactions and Contraindications
Medications that may interact with nebivolol
Contraindications and precautions for concurrent use of nebivolol with other drugs
Importance of consulting a healthcare professional before starting nebivolol
Patient Guidelines and Considerations
Recommendations for patients taking nebivolol
Importance of regular monitoring and follow-up appointments
Lifestyle modifications to complement nebivolol therapy (e.g., diet, exercise, stress management)
Recent studies on nebivolol's effects on arterial stiffness and endothelial function
Potential role of nebivolol in reducing inflammation and oxidative stress
Emerging research on nebivolol's impact on neuroprotection and cognitive function
Investigating the use of nebivolol in combination with other drugs for enhanced therapeutic outcomes

Comparing Nebivolol to Other Beta-Blockers
Differentiating nebivolol from other commonly used beta-blockers
Comparative efficacy, safety, and side effect profiles
Factors to consider when choosing between nebivolol and other beta-blockers for specific patient populations
Nebivolol in Special Populations
Nebivolol usage in the elderly population: benefits and considerations
Nebivolol safety and effectiveness in pregnant and breastfeeding women
Adjusting nebivolol dosage in patients with impaired liver or kidney function
Nebivolol use in pediatric patients: current evidence and potential applications
Personal Experiences and Testimonials
Real-life stories and experiences from patients using nebivolol
Insights into the impact of nebivolol on their daily lives and overall well-being
Patient perspectives on managing side effects and adhering to nebivolol therapy
Can nebivolol be used for anxiety or migraines?
What should I do if I miss a dose of nebivolol?
Can nebivolol cause weight gain?
Is nebivolol safe for long-term use?
Conclusion
Nebivolol is a valuable medication used in the management of hypertension, heart failure, and potentially other conditions. Its unique mechanism of action and favorable safety profile make it a popular choice among healthcare professionals. However, like any medication, nebivolol has potential side effects and interactions that should be considered. It is important for patients to work closely with their healthcare providers to determine the appropriate dosage, monitor for adverse effects, and optimize its benefits. By understanding nebivolol's uses, benefits, and precautions, patients can make informed decisions and enhance their overall cardiovascular health.
Recap of key points discussed throughout the blog post
Encouragement for readers to consult healthcare professionals for personalized advice
Acknowledgment of nebivolol's significant contribution to the field of cardiovascular medicine
Hope for continued research and advancements in the understanding of nebivolol's benefits and potential applications
By expanding on these additional sections, the blog post will provide a more comprehensive overview of nebivolol, covering its latest research, comparisons with other beta-blockers, considerations for special populations, and real-life experiences from patients. This well-rounded perspective will equip readers with a deeper understanding of nebivolol's uses, benefits, and potential implications for their cardiovascular health.